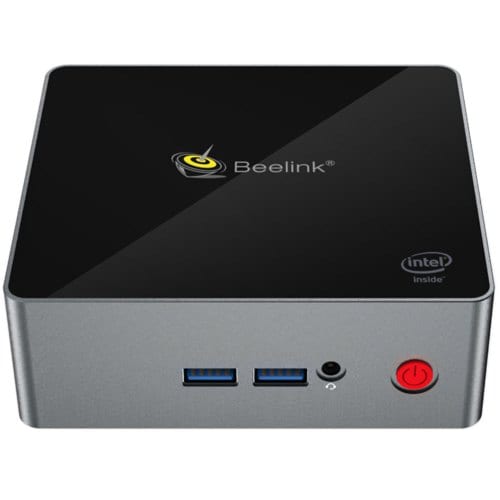 Buy This Item

gearbest.com
Features
Marca: Beelink
Tipo di Sciarba: Mini PC
CPU: Intel Pentium J4205
Nucleo: Quad core
GPU: Intel HD Graphics 505
Capacità Estesa Massima: TF carta fino a 64GB (non incluso)
Decodifica formato: H.263,H.264,HD MPEG4
Formato Video: RM,4K,DAT,ISO,MKV,MPEG,MPEG-1,MPEG-4,WMV
Formato Audio: AAC,SCIMMIA,FLAC,MP3,OGG,WMA
Supporto 5,1 Surround Suono Porta Uscita: No
WiFi Supporto 5G: sì
Bluetooth: Bluetooth4.0
Alimentazione: Adattatore di Carica
Interfaccia: Porta di alimentazione DC,Spinotto degli auricolari,HDMI,LAN,Microfono Jack,Carta di TF,USB3.0
Antenna: sì
Macchina Fotografica: Senza
Supporto DVD: No
Versione HDMI: 1.4
Altre Funzioni: Altri
comsumption di potere: 12w
RJ45 porta Velocità: 1000M
Tipo Potenza: Modalità alimentatore esterno
Peso di Prodotto: 0,3000 kg
Peso di Pacchetto: 0,6700 kg
Wise del Prodotto (L x P x A): 11,50 x 10,20 x 4,30 cm / 4,53 x 4,02 x 1,69 pollici
Formato del Pacchetto (L x P x A): 12,20 x 19,50 x 5,50 cm / 4,8 x 7,68 x 2,17 pollici
Materiale principale: 1 x Mini PC, 1 x Power Adapter, 2 x HDMI Cable, 1 x Bracket, 1 x Bag of Hard Disk Screws, 1 x English Manual
Description
Caratteristiche principali● Processore Pentium Intel Lake Apollo J4205 (Cache 2 M, 1,5 GHz fino a 2,6 GHz)● GPU Intel HD Graphics 505● WiFi dual-band a 2,4 GHz + 5,8 GHz● Ethernet a 1000 Mbps● Supporta la visualizzazione di immagini 4K ultra HD● Supporta la decodifica H.265
User reviews
Gostei muito e fiquei surpreendido com a qualidade.O computador é pequeno de boa qualidade. O brilho na parte superior fica muito bem.O desempenho é bom, para o preço e o que é oferecido claro. Para um computador de 200 e poucos euros não se pode pedir mais.Desempenha perfeitamente as funções de acesso à internet e office.Funciona bem em corel, mas para coisas simples claro. Mas ainda assim é bastante fluido.O arranque é bom 🙂 5s.Coloquei na parte posterior de um ecrá e fica muito bem.Fiquei surpreendido com a qualidade.
The mini PC arrived very fast (2 weeks) and was very easy to install and activated.It bis rather small box but has good processor, 8 GB RAM and 256 GB memory. full windows 10 is built in and operates well. after few hours of work with it - home use - it works well fast and silent.I hope it will last for very long time
Fast shipping/delivery.My unit came with Licensed Win10 Pro.The PC is great and fast for basic usage and some games.The one thing bothers me is the blue led light on the power button, It is too bright. I put a sticker on it.I'm very satisfied.